Welcome to Lechon Pig
Many others are less expensive for lechon. Cebu lechon is the best! If you want the best of Cebu then order from us. If you want a "CHEAP LECHON PIG?" then order from another.
We pride ourselves on Customer service and the BEST Quality you can find here for Cebu Lechon Pig. (Baboy)
Order Online TODAY! Cebu's Best Lechon Baboy Roast Pig ever.
Get the best Philippine Lechon Baboy Roasted Pig Delivery fresh to any airport in the Philippines!
Always on time and fresh to anywhere in the Philippines.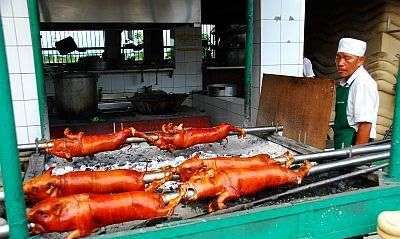 (Roasted Pig), Cebu, Philippines
We accept Western Union, PayPal, Visa, MasterCard, American Express, or plain old cash works too.
A medium (average) lechon is good for 35-45 persons Our Prices are as follows:
Small – Estimated No. of People: 25-35
Price: ($145) + ($25) If Shipped by air out of Cebu City
Medium – Estimated No. of People: 35-45
Price: ($185) + ($25) If Shipped by air out of Cebu City
Large – Estimated No. of People: 55-65
Price: ($225) + ($25) If Shipped by air out of Cebu City
Extra Large – Estimated No. of People: 65-75
Price: ($270) + ($25) If Shipped by air out of Cebu City
Our most popular size is the Medium Pig costing $185. ad ($25) if Air shipping is required outside Cebu City
WE ACCEPT PAYPAL
Air freight out of Cebu has increased considerably, due to this the charge for air freight for our Lechon Pig has increased.
NOTE: ad ($25) if Air shipping is required there is no charge for local Cebu City pickup
Extra Information about Cebu Best Lechon Baboy:
There are also some other ways you can cook Lechon here in the Philippines such as the Philippine Lechon kawali which is cooked in a large frying pan.
Cebu's lechon Baboy (ROASTED PIG) is considered to be one of the best tasting
Lechon Baboy in the country. Its unique taste is evident from its soft tender meat
to its crispy skin. Here, lechon Pig is not dipped in the usual gravy, but in a
mixture of vinegar and fish sauce. Filipinos from all over the country (& the world)
always prefer Cebu lechon.
Get Philippine "Talisay City Lechon Baboy" or Roasted Pig Delivered fresh and on time to your door in Cebu City Philippines.
Cebu has the best Philippine "Lechon" Roasted Pig available in the Philippines.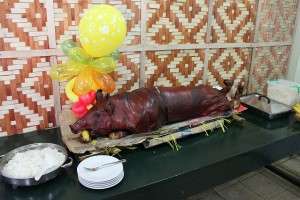 CNT Lechón is one of the most popular names in Lechon Pig. But there is 1 other place that beats the taste of CNT hands down!
Merlenes Lechon Pig, Cebu, Philippines.
Big Discounts for bulk orders over 10 roasted
Lechon Pigs.
We also accept deliveries to local Cebu vendors
and Cebu supermarkets with huge discounts for frequent orders.
---
---
Orders outside the areas just mentioned are considered "Out of Town" and will be
charged an additional delivery fee.
Lechon Pig is whole marinated for 12 hrs in a special
secret marinade, then stuffed with lemon grass, garlic, Anise and Onion, then slow
roasted to perfection. Orders are to placed 3 days in advance. Guaranteed fresh and
on-time.
The Best Roasted Lechon Pig is right here in Cebu, Philippines. Lechon Pig Delivered straight to your loved one on your specified date and time.
For lechon pig orders, please book your orders preferably 3-5 days before delivery date to ensure on-time delivery.
In the Philippines, Lechon is served with plum or other sauces, vinegar, or with other seasonings or accompaniments. In the Philippines, the term lechón also came
to mean any meat prepared by cooking on a pit, such as lechón baka (roast beef) and lechón manok (roast chicken). There are other Philippine versions of lechón,
known as lechón kawali and Paksiw na lechón. Lechón kawali involves boiling the processed meat and then frying the pieces of pork in a frying pan.
Paksiw na lechón involves cooking the leftovers of the main-course lechón by boiling it in a vinegar mix, making the meat moist, and then stir-frying it along
with other marinated ingredients.
In most regions, lechón is prepared throughout the year for any special occasion,
during festivals, and the holidays.
After seasoning, the pig is cooked by skewering the entire animal, entrails removed, on a large stick and cooking it in a pit filled with charcoal. The meat is placed
over the charcoal, turning the stick in a rotisserie action. The meat is roasted on all sides for several hours until done. The process of cooking and basting usually
lends itself to a crisp skin, which is also served with the meat.
NOTE: we ship through Cebu Pacific to all areas of the Philippines.
You may claim your Lechon Pig at your local airport. Please provide pickup information listed below.
Please ensure that you provide the following:
Photocopy of a valid ID that belongs to you, with your signature and the waybill# from the sender.
To speed up shipment tracking, please have your shipment's air waybill number
on hand. We will send this to you by text or email.
CEBU PACIFIC (CEBU
to MANILA)
Frequency

Departure
Arrival

Daily

04:00
am
05:15
am

Daily

04:45
am
06:00
am

Daily

06:25
am
07:40
am
Daily

07:55
am
09:10
am

Daily

08:25
am
09:40
am

Daily

10:20
am
11:35
am

Daily

11:30
am

12:45pm

Daily

12:05
pm
01:20
pm

Daily

01:50
pm
03:05
pm

Daily

04:25
pm
05:40
pm

Daily

04:25
pm
05:40
pm
How can I arrange a shipment with Cebu Pacific Cargo?
To arrange a shipment, please call Cebu pacific Cargo at +63-2-8514126.

More Schedules from Cebu to other Airports:



CEBU PACIFIC

(CEBU to BUTUAN)
Frequency
Departure
Arrival
M-W-F
01:55 pm
02:40 pm
(CEBU to CLARK)
M-W-F
10:20 am
11:40 am
(CEBU to CAGAYAN)
M-W-F
05:05 am
05:50 am
TUE-THU-SAT-SUN
01:55 pm
02:40 pm
(CEBU to DAVAO)



DAILY

05:00 am
06:00 am



DAILY

10:50 am
11:45 am



DAILY

06:20 pm
07:15 pm
(CEBU to ILO-ILO)



DAILY

08:00 am
08:40 am



DAILY

03:25 pm
04:05 am
(CEBU to ZAMBOANGA)
TUE-THU-SAT
10:20 am
11:35 am
(Cebu to Puerto
Princesa)
TUE-THU-SAT-SUN
05:05 am
06:00 am